Light, strong, buoyant and powerful!
Made from 100% carbon fibre which is pre-impregnated with toughened epoxy resin.
The blades are manufactured at a very high pressure to produce an extremely solid hardwearing edge.
The carbon shaft provides extra strength and power favoured by many top freestyle and creek boat paddlers.
Supplied with an oval shaft in the area of the handgrip.
Weight at 190cm is only 917g [+/- 3%]
Area 740 cm², Overall length 485 mm, Overall width 217 mm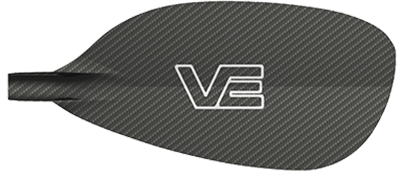 Every set of VE Paddles is made in Britain, by hand, at our factory in Clevedon. Care is taken at each step so you can rely on VE as your connection to the water. VE paddles are made using pre-preg carbon and fibreglass materials and compression moulded construction techniques. Blades are fitted onto proprietary carbon or glass shafts; in straight, crank and split versions. All VE Paddles are assembled to a strict process, to ensure a quality finished product. VE Paddles come in a wide range of configurations. VE paddles come with a 24-month warranty against manufacturing defects.