ve explorer glass blade 2 piece glass shaft 
The VE Explorer Glass Blade 2 Piece Glass Shaft is supplied as a 2-piece paddle as standard. The VE Explorer's split joint allows quick and easy adjustment of length (up to 10cm), angle and orientation whilst in the kayak without the need for tools, as well as enabling separation for easy transport and storage
The Explorer paddle's shaft is indexed on both sides for maximised grip.
The high-angle versatile design connects smoothly with the water, right from the catch through to the exit of each stroke.
The straight glass shaft offers plenty of flex to reduce fatigue over long distances.
With geometry that has proven unbreakable, to date, and 30% more glass than the market leader, you have the strongest most durable blade on the market!
A paddle you can trust wherever you are!
Specifications
Blade area: 680 cm²
Overall Length: 460 mm
Overall Width: 185 mm
Weight: 1084 g @ 210 cm
The shaft incorporates an oval grip and drip rings as standard.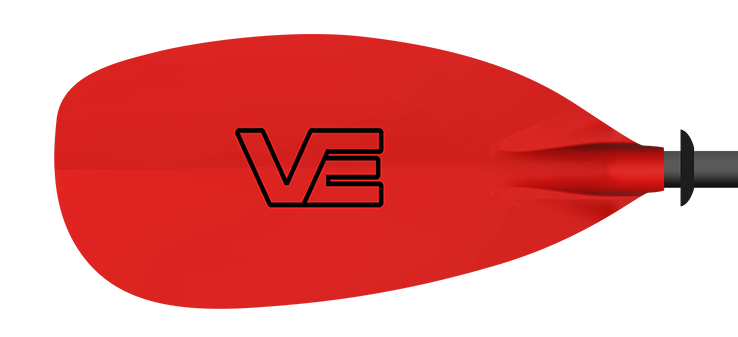 At VE, they're very picky about materials.
They only use the highest quality woven and unidirectional high-strength carbon and glass fibres which come pre-impregnated with top-quality toughened epoxy resin.
Using prepreg materials is different to most other manufacturers who use a liquid epoxy resin with dry fabrics.
VE paddle's resin is a blend of thermosetting epoxy with a thermoplastic additive which, in simple terms, means it's tougher and more damage tolerant  than a conventional liquid epoxy.
Using a prepreg-based manufacturing method VE achieve a greater scratch resistant surface finish with no gel coat or lacquer which add weight instead of strength.
VE can also rely on their materials' consistency, because they've got exact and accurate control over the fibre-to-resin ratio and where they lay the fibres. More science equals more strength and toughness!
Using VE core-less technology, VE's glass blades have 30% more glass fibre in their construction and are still lighter. This additional glass not only makes VE glass blades a lot stronger and also a lot more durable.
The VE logos are moulded into the blades, not post applied stickers or prints. This ensures that even after years of abuse they will still be intact.
Every set of VE Paddles is made in Britain, by hand. Care is taken at each step so you can rely on VE as your connection to the water. VE paddles are made using pre-preg carbon and fibreglass materials and compression moulded construction techniques. Blades are fitted onto proprietary carbon or glass shafts; in straight, crank and split versions. All VE Paddles are assembled to a strict process, to ensure a quality finished product.
more about the brand
Founded in Nottingham, England, in 2008, VE stands for Vertical Element; reflecting the mission set by founder Dr. Stuart Morris to make paddles to meet the needs of elite paddlers.
VE Paddles with innovative Aircore technology, are handmade in Britain from the very best materials – toughened prepreg composites – to produce stronger, more damage tolerant blades; loved by owners the world over.
VE have spent over a decade researching and developing paddle design, with input from some of Britain's finest paddlers.
You can check out their full range and some great info about all things paddle at vepaddles.com.
having trouble choosing?
Check out our "How to Choose a Kayak Paddle" post for some helpful tips on picking the right paddle for you. It will help you with size and style and give you info on the different materials.
If that's not enough, there is endless paddle related articles here to help you dive down the rabbit hole.