ve flyte aircore carbon blade crank carbon shaft 
The VE Flyte Aircore Carbon Blade Crank Carbon Shaft has an aggressive catch, which rewards starting the stroke further forward but with a more gradual taper towards the neck the blade feels smoother in the later parts of the stroke. This shape has slalom inspired design DNA to its core. This blade is made from 100% carbon fibre which is pre-impregnated with toughened epoxy resin making it extremely strong, robust and hard-wearing.
This version has VE Paddles carbon crank shaft. This paddle shaft has an ergonomic moulded grip which is angled to provide neutral wrist alignment and neutral blade offset for low torque. This reduces grip stress and gives you unmatched blade awareness. Great for those prone to sore wrists elbows or shoulders as well as those who like to know exactly what their blade is doing and what angle it is in the water no matter how rough the ride
Specifications
Shaft: 1 Piece Carbon
Shaft Diameter: Ø 30.6 mm
Weight: 923 grams (197 cms)
Length Range: 188 cms to 203 cms in 3 cm increments
Angle/Feather: R. 30° as standard
Blade Surface Area: 735 cm²
Blade Length x Width: 485mm x 220mm
The VE Aircore blades are Light, strong, buoyant and powerful! Made from 100% carbon fibre which is pre-impregnated with toughened epoxy resin. The blades are manufactured at a very high pressure to produce an extremely solid hard wearing edge. The carbon shaft provides extra strength and power favoured by many top freestyle and creek boat paddlers. Supplied with an ergonomic shaped shaft in the area of the handgrip. This is a one piece paddle
Ergonomic Grip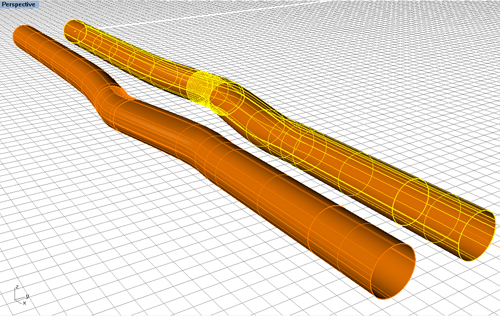 VE Paddles crank shafts have a specially designed grip geometry allowing the shaft to fit securely in the hand – reducing the need to grip too tightly.
Combined with neutral wrist alignment this reduces the risk of paddlers developing repetitive strain injuries (such as tendonitis) and helps paddlers with such injuries to rehabilitate and get back on the water.
Performance Blades
VE Paddles Aircore carbon blades give you the stiffness and buoyancy of a foam-core blade with the reliability of laminate edges for a longer-lasting, higher performance paddle.
No Foam Core
VE Paddles have developed the spine geometries of their paddles combined with a manufacturing process that means they can use a hollow spine instead of a foam core, resulting in more reinforcing fibres in the blade and less weight.
Due to the weight saved by this process their blades typically have 30% more reinforcing fibres than competitors paddles and still be a lighter, stronger paddle.
By having a hollow core, the extra reinforcing material they  use prevents the puncturing problems that are common with foam-cored paddles.
VE Paddles have designed their paddles with structural analysis software and they have been tested and approved by some of the world's best paddlers with outstanding feedback – VE Paddles are building super-strong blades which flex in the right places and feel great on the water.
Every VE Paddle is made in Britain, by hand, at their factory in Clevedon. They take care at each step so you can rely on VE as your connection to the water. VE paddles are made using pre-preg carbon and fibreglass materials and compression moulded construction techniques. Blades are fitted onto proprietary carbon or glass shafts; in straight, crank and split versions. All VE Paddles are assembled to a strict process, to ensure a quality finished product. VE Paddles come in a wide range of configurations. The product descriptions and paddle length charts may help guide your choice, but if you want advice on what will work best for you, please get in contact with us either by email or phone.
more about the brand
Founded in Nottingham, England, in 2008, VE stands for Vertical Element; reflecting the mission set by founder Dr. Stuart Morris to make paddles to meet the needs of elite paddlers.
VE Paddles with innovative Aircore technology, are handmade in Britain from the very best materials – toughened prepreg composites – to produce stronger, more damage tolerant blades; loved by owners the world over.
VE have spent over a decade researching and developing paddle design, with input from some of Britain's finest paddlers.
You can check out their full range and some great info about all things paddle at vepaddles.com.
having trouble choosing?
Check out our "How to Choose a Kayak Paddle" post for some helpful tips on picking the right paddle for you. It will help you with size and style and give you info on the different materials.
If that's not enough, there is endless paddle related articles here to help you dive down the rabbit hole.